June 9, 2011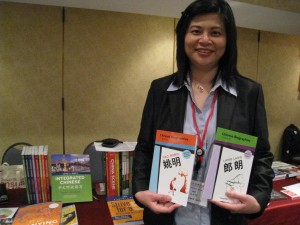 Grace Wu (author of Chinese Biographies)
Cheng & Tsui exhibited at the
Association Chinese Schools (ACS) held in The King of Prussia, PA from May 28th to May 29th, 2011. The conference has about 200 visitors most of them are teachers at Chinese schools which offering classes in Chinese to heritage students during weekends. Besides for Book Exhibition and sessions, they had speech contest, poster contest, and Chinese cultural contest held at the conference. So the participants not only are teachers but also are students and families, which made the venue really full and joyful.
Cheng & Tsui would like to thank all the attendees who stopped by our booth to browse our titles, make requests for review copies, or speak with our exceptional Educational Specialist. Your continued support made this conference a success!
A special Thank You to Grace Wu - author of Chinese Biographies - who stopped by to answer questions on their text and take a quick photo with her books.
Cheng & Tsui is the leading publisher of Chinese language textbooks, interactive material and resources. Visit www.cheng-tsui.com for more information and to view our entire catalog.