May 5, 2011
Author Weiman Xu (Strive for a 5) with Cindy Su and Eavan Cully of Cheng & Tsui
Cheng & Tsui would like to thank all the National Chinese Language Conference (NCLC) attendees who stopped by our booth to browse our titles, make requests for review copies, or speak with our exceptional Educational Specialists. Your continued support made this conference a success!
A special Thank You to our very accommodating authors Jianhua Bai (author of Beyond the Basics), Hazel Young Haseqawa (author of All in One Chinese Fun), and Weiman Xu (author of Strive for a 5), who stopped by to answer questions on their text and take a quick photo with their books.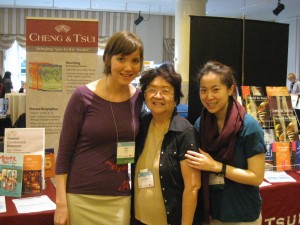 Hazel Young Hasegawa with Eavan Cully and Cindy Su of Cheng & Tsui
Jianhua Bai author of Beyond the Basics
Cheng & Tsui is the leading publisher of Asian language textbooks including Integrated Chinese, Adventures in Japanese and Huanying. Visit www.cheng-tsui.com for more information and to view our entire catalog.