December 17, 2019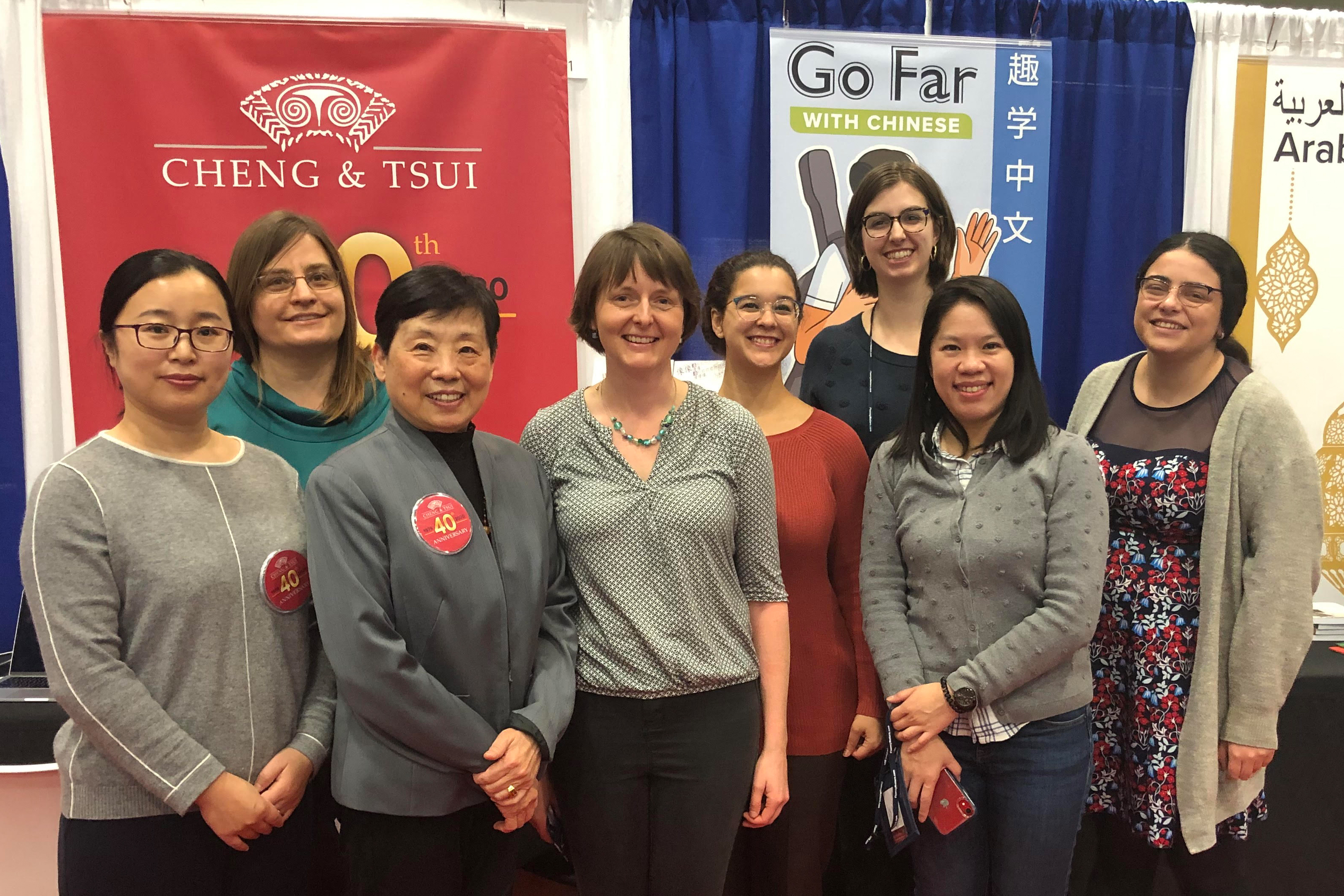 (President & CEO Jill Cheng [third from left] with the Cheng & Tsui team and representatives from Palacký University Olomouc at the 2019 ACTFL Convention.)
This year, Cheng & Tsui marks four decades of "Bringing Asia to the World!™" To celebrate, we sat down with our President & CEO Jill Cheng to discuss the company's past, present, and future. 
This year we celebrate Cheng & Tsui's 40th anniversary! What thoughts and emotions come to mind when you think about that?
I've been too busy to really think about it until recently! People keep congratulating me, and it's a very joyful surprise and realization that our services and publications have had such a major impact on the field of Asian studies over the years. Upon reflection, we've touched at least a couple of million people around the world. That's a pretty big number for our niche business. 
I'm tremendously grateful to my parents for letting my brothers and me pursue whatever we wanted. That was quite unusual in my childhood days, and not to be taken for granted. I'm also grateful to my husband. If I had married someone else, I think I might have followed a much more conventional and comfortable path in life. Instead, I married someone who expected a great deal of independence from his spouse and helped bring out my potential. And I'm very grateful to the many, many others who have helped me along the way.
How did you choose a career in publishing? How did you get your start in the industry?
I never thought I would pursue a career in publishing, and running my own business was absolutely never planned. I fell into it. I was born in Chongqing, but when I was very young, my family relocated to Tokyo for my father's diplomatic career and I wound up attending an American International School. When I was a freshman, my English teacher, Mr. Robert Tidgwell, came to me and asked if I would like to be trained to be the next editor-in-chief for the school newspaper. It turned out I was a natural fit for the position, and I loved it. There's so much room for creativity. Good teachers like Mr. Tidgwell really impact our lives! 
When I left Japan to study at Radcliffe College in Cambridge, Massachusetts, I still never thought I'd wind up in publishing. I was thinking of a career in academia, and I majored in international relations. But I was able to parlay my editorial skills into a part-time job at Robert Bentley, Inc., a Cambridge-based publishing house. I took a year after college to work as a political science research assistant, but I discovered that it was not for me. I did go back to get a Master's degree in theology from the Harvard Divinity School--just to feed my intellectual curiosity--but eventually I went back to Robert Bentley, Inc. 
I enjoyed my work there. Robert Bentley was a brilliant but challenging boss, but he was always open-minded and welcomed my questions. He trained me in the business side of the company, which softened my initially negative attitude toward being "in business." He deserves a lot of credit for opening my eyes to possibilities and helping me develop a broad range of skills beyond editing.  
Where did Cheng & Tsui's company mission come from?
During my freshman year at Radcliffe College, one month after arriving in America, I was invited to the president's house for a welcoming reception. I wanted to put my best foot forward, so I wore my most formal outfit--a fitted qipao. At the reception, a Harvard professor's wife looked me up and down, very disapprovingly, and said, 'What vanity, showing off your figure like that!' I was stunned. And I thought, 'Gee, if a Harvard-educated person can't recognize this as a way of showing respect, then America must be very provincial.' And it was, and still is, in some respects.
Fundamentally, I believe that racism comes from a place of ignorance, not mean-spiritedness. We all can get along if we understand each other and each other's differences. And it's through education that I think you have to make change. That's why bringing people together--and giving them the ability to speak to each other on both a linguistic and sociocultural level--has always been the basis of my mission. I do hope Cheng & Tsui has played a small role in opening up people's minds through our publications.
How did you start distributing books?
Even though I was already working full-time at Robert Bentley, Inc., I started to import books that weren't available in Chinatown for my husband. When I realized there were others who might appreciate that service, I started to make my own catalog. I actually had to hand write the Chinese characters in my early catalogs because there was no Chinese typesetting here at the time. And the exciting thing was that people responded! There were so many graduate students, scholars, and professors who were having a hard time getting things from abroad. So that's how I wound up distributing imported books. I enjoyed the sleuthing. I used to pore over the catalogs of the major Chinese publishers. I learned so much about academic books, and my Chinese improved exponentially--I got a second education that way.
What led you to officially found Cheng & Tsui? 
Even though I started distributing books as a hobby before 1979, I didn't decide to pursue it as a career until after I was offered the role of president at Robert Bentley, Inc. It forced me to think--is this what I really want? I'm a very loyal person, so I knew if I accepted the offer, I would have stayed for a very long time. It would have been a comfortable, high-paying job, but I wanted to pursue something that was meaningful to me personally. So I decided to change paths earlier rather than later. 
Everyone I knew was shocked by my decision. After all, there was no money in the book business, and especially no future for Asia-related materials. Not a single person supported me. Luckily, my parents and husband gave me the freedom to make my own decision, although they did ask me a lot of questions before I made the jump! 
I had low, low expectations. I said, if I can break even and keep the business going, I'll be happy. It was a big gamble, but my independent nature allowed me not to be fearful of things. I was working out of the basement of my house initially. Eventually, I outgrew the basement and moved the company to Boston's Downtown Crossing. 
Where did the name Cheng & Tsui come from?
My married name is Cheng, and my maiden name is Tsui. I was a little self-conscious about it, but I decided that since I was in the United States, I would follow the American style of naming publishing companies. Houghton Mifflin, Harper Collins--these are all people's last names. That's how I settled on Cheng & Tsui.
When and why did you decide to begin publishing your own titles? Can you talk about the transition?
Publishing has always been my love, not distribution. But I didn't have the funds to be a publisher, at first. I started with distributed titles, and then, as the company took off, I started doing reprints of Chinese and Japanese literature in English translation. My very first original publication was a language book: Pattern Sentences for Elementary Chinese, by Shou-ying Liang Lin, the instructor in charge of the Chinese program at Harvard University. 
I love learning languages and have always seen communication as key to intercultural understanding.  I wanted to move into language-learning materials for the classroom, but I didn't know enough about Chinese language teaching. The turning point came around 1984, when I was approached by Professor Shou-hsin Teng, a renowned linguist, who helped to create a Chinese language expertise board consisting of top professors in the field to guide and advise me. At the time, few presses wanted to publish Chinese language learning materials, so teachers were stuck using books from China or Taiwan. With the new board's support, I was able to help fill the void by publishing original language learning textbooks designed for American students.
From the very beginning, we endeavored to meet the market's needs. I'm a good listener. I listened carefully to the things customers wanted, which I quickly realized did not exist in any of the books I was distributing. At first, we were just producing traditional character versions of simplified character materials from China that had stronger pedagogy. That alone made teachers quite happy. Then we added features that books from China didn't have, because the needs were unique to America. So it's been quite fulfilling to keep up with changing pedagogical needs and to provide learners with more fun and effective learning materials. 
Can you share some of the most exciting moments at Cheng & Tsui over the last 40 years?
Moving into our office at 25 West Street is certainly up there--although challenging may be a better word than exciting. We moved in during December, around Christmastime, so our first heating bill was quite the shock!
During the company's early years, we used to operate a bookstore on the first floor of our office. We used to get all sorts of customers--grad students, scholars, professors from Harvard and Boston University. To cater to non-Chinese and non-Japanese speakers who came into the store, we started to carry more popular English books about Asia and literature in translation, which changed the nature of the business. A few local celebrities stopped by to browse too--former Mayor Kevin White and former Governor William Weld spring to mind. The most fun we ever had in the bookstore was when we held a book signing for Ross Terrill, who was then one of the foremost scholars on China. Channel 5 heard that he was giving a talk here and they actually sent a TV crew! Unfortunately, I had to close the bookstore in the mid-eighties. It was too exhausting. I had to physically be there seven days a week.
I'd be remiss if I didn't mention the publication of Integrated Chinese. I was really nervous because of the risks. It was a totally innovative series. No one had previously ever tried the approach of teaching all four skills at once, and I had never invested so much money into an original work before! I worked hundred-hour weeks that summer to publish all twenty volumes by the fall semester. I had to hire a photographer for the cover and young teenagers to be the models. I marketed the series using fax machines. There was no internet then, so that was the fastest way to transmit information. Luckily we got it done on time, and it was certainly worth the effort. And then Adventures in Japanese followed the next year!
What are some of the most valuable lessons you've learned along the way?
I've learned many valuable lessons over the years, but perhaps the most important ones are that focus and quality are really critical to success. I've always been a focused person. In the past, I had people suggest that I should set up an outlet in China to publish textbooks to teach English to Chinese people. I said, 'Wow, yes, that would be a huge business.' But then I wouldn't have been introducing something unique and much needed. I'd rather specialize and be the best at what I do. I'm a little bit headstrong in that respect. I don't like to do what everybody else is doing. I like challenges. 
I've also always tried to conduct business with integrity and transparency, even if I lose opportunities because I'm not "playing the game." The temptation to grow the company quickly and dramatically was never worth compromising our reputation. And if we lowered our high standards or rushed production, we wouldn't be able to put out the quality products we are known for. It's hard, no question. Publishing is a high-risk, high-capital industry. But if you don't look only at the bottom line and can accept a slower pace of growth based on a commitment to publish high quality products, it's a wonderfully meaningful and impactful place to be.
Thinking of the future, what are you looking forward to the most? What are some of your goals for the company?
I am so excited about the future of the company and the field we're in. It feels very timely that we just introduced the first volume of Go Far with Chinese, our new textbook series for secondary schools that's been three years in the making! Teachers have been wanting a series that will articulate to the college level. We're responding to that. 
I do believe China will become ever more important to the world in the next few decades, so I don't see the demand for quality Chinese language education decreasing anytime soon. We are certainly striving to be more globally present. In fact, we just entered an exciting new partnership with Palacký University Olomouc in the Czech Republic, which is a step in that direction.
I love the team I currently have and I feel very lucky to have them. Of course, we're always looking for new team members who will wholeheartedly embrace our mission. With additional human resources, we would be able to expand our product offerings to include more print and digital materials that support primary school programs, effective distance learning, and independent adult learning. We also plan to continue our support for professional development for teachers. 
I know I won't be able to see all of these goals through to completion without a lot more help, so I would love to mentor talented young people to help move the company in the right direction, while also providing them rewarding careers with us. Our mission is very humbling because it's a never-ending goal. But that's fine, because it means there is room for continuous innovation and improvement. We'll never be bored!  Which is why I still haven't lost my love for what we're doing, and I hope I can keep at it for a while yet.