March 3, 2021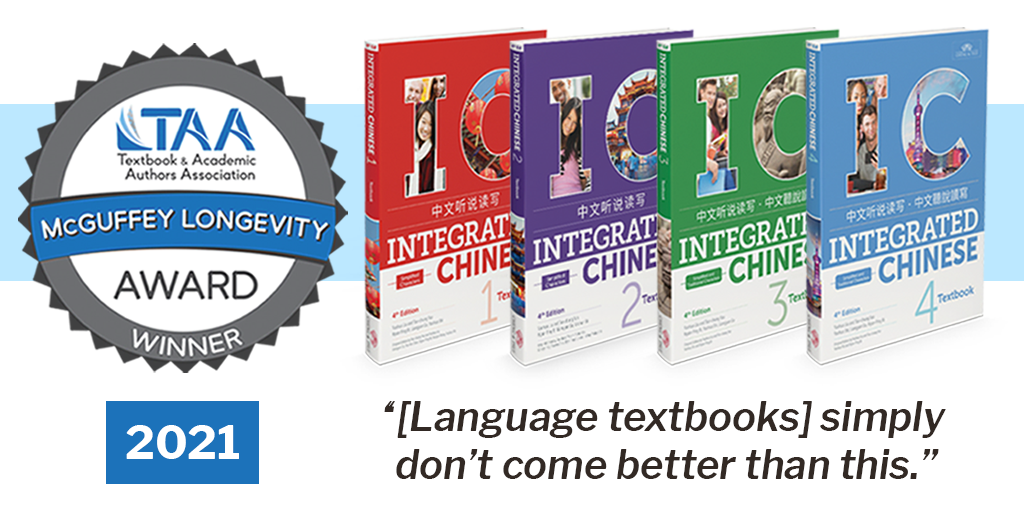 Named among the best textbooks of 2021, the updated fourth edition of Integrated Chinese has been recognized for its demonstrated excellence in the areas of pedagogy, content, writing, appearance, and design. 
From the judges: "Integrated Chinese has become the standard text for Chinese language programs at universities in the United States for good reason. It fully lives up to its name by offering an integrated approach to teaching and learning speaking, listening, reading, and writing skills. In terms of conception, design, and production values, it sets the standard for what a second language textbook should look like. They simply don't come better than this." 
First published by Cheng & Tsui in 1997, the fourth edition of Integrated Chinese has become the most widely adopted Chinese textbook in North America and is sold in nearly 100 countries around the world. The program has helped generations of second language learners develop the skills necessary to communicate effectively in Chinese, as well as an appreciation for Chinese culture. 
"In this moment, we think of the late Professors Tao-chung Yao and Yuehua Liu, whose vision and leadership made the success of Integrated Chinese possible," said co-author Liangyan Ge, Professor Emeritus of the University of Notre Dame. "This award attests to the solidarity and seamless collaboration of the entire author team. We are also grateful to our publisher Jill Cheng and the Cheng & Tsui editorial team for their diligent and meticulous work throughout the years."
Chosen by subject matter experts and textbook authors, the McGuffey Longevity Award recognizes textbooks and learning materials whose excellence has been demonstrated over time. To be eligible, a work must have been in print for at least 15 years and continue to be in-demand. The 2021 McGuffey Longevity Awards will be presented to authors at a virtual ceremony on March 19th. 
For more information about Integrated Chinese, click here.