March 6, 2019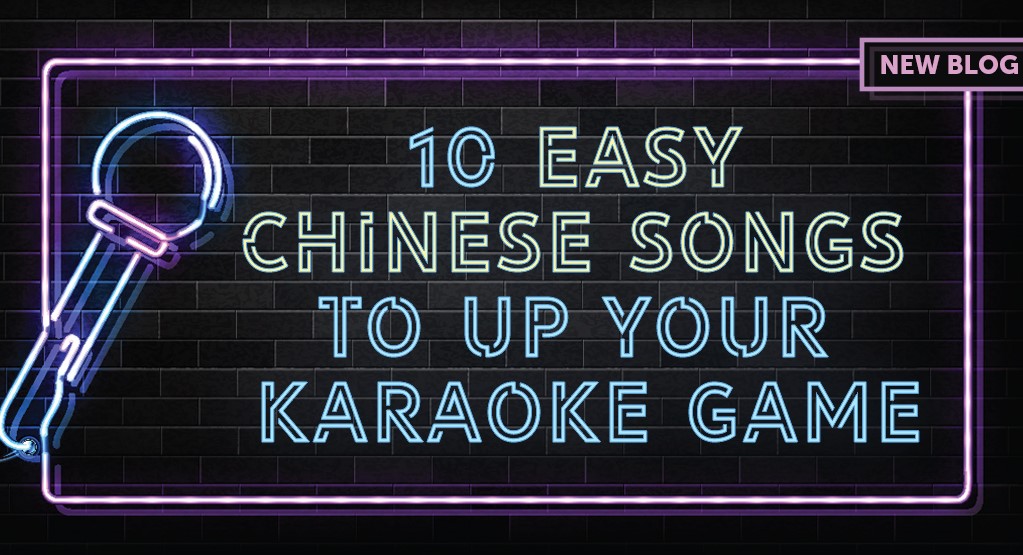 Karaoke, or KTV, is a super popular pastime in China and much of Asia. Unlike karaoke in the west, which is a very public affair, KTV in China typically involves booking a private room at a karaoke venue with a group of friends and singing your heart out for a couple of hours. It's also not unusual for colleagues and clients to bond over karaoke together.
If you've spent any amount of time studying Chinese, there are certain gateway KTV songs that are hard to avoid, ranging from tried and true classics like Wakin Chau's 《朋友》, Teresa Teng's 《月亮代表我的心》, and Richie Ren's 《对面的女孩看过来》, to more modern hits like Michael Wong's 《童话》. If you've somehow managed to avoid these songs until now, apologies in advance for the earworm.
But are you really going to bust out a tired rendition of 《北京欢迎你》 in front of your Chinese friends and coworkers? Whether you're warming up for a night out or just looking to spice up your studies with a musical interlude, we've got you covered. To help you expand your repertoire, we've compiled a list of 10 songs in Mandarin Chinese--both new and old--that you can learn with minimal effort, listed below roughly in order from easiest to hardest.
One more thing--since most karaoke software (and many popular Chinese songs) comes from Taiwan or Hong Kong, karaoke subtitles are usually written in traditional characters. If you are used to reading simplified characters, our Integrated Chinese series offers helpful vocabulary indexes that show both simplified and traditional characters side-by-side. In any case, it's probably a good idea to practice before you take any of these songs out for a whirl in public.
1) Let's Start from Here 《迷宮》 - Joanna Wang 王若琳
It only feels appropriate to start with "Start from Here"--a soft, gorgeous song from Taiwanese-American singer-songwriter Joanna Wang's debut album. Wang also recorded an English version of the track, but the slow tempo and simple lyrics of the Mandarin version make this a very approachable song for language learners. If you get lost, there's a little bit of English sprinkled in the mix, too. Wang herself has said she thinks the song is cheesy, but we beg to disagree.
[Lyrics]
2) Perfect Match 《豆浆油条》 - JJ Lin 林俊杰
"Perfect Match" is cheesy, but in a deeply satisfying way--just like the salty, deep-fried strips of dough (yóutiáo) and soy milk that Singaporean pop star JJ Lin sings about. If you like Richie Ren's sad boy anthem "Hey Girl Look This Way" (《对面的女孩看过来》), then this is the song for when you finally catch the attention of the object of your affections. Bonus points for sweet, practical vocabulary!
[Lyrics]
3) 1234567 - Cheer Chen 陈绮贞
If you can count to seven in Chinese, you can sing this song. This charming, summery bop from Taiwanese folk rocker Cheer Chen is perfect for beginning learners, and the simple melody is hard to mess up, even for the less musically inclined among us. If you enjoy the Japanese city pop genre, "1234567" will be right up your alley.
[Lyrics]
4) Tenderness 《温柔》- Mayday 五月天
Searching for something a little more pop punk? Try "Tenderness" by Mayday, a Taiwanese garage band turned international sensation. In 2014, they were the first musical group from the Chinese-speaking world to play Madison Square Garden.
[Lyrics]
5) Greenhouse Girl 《花房姑娘》- Cui Jian 崔健
We'd be doing you a disservice if we didn't include at least one song by Cui Jian, the "Father of Chinese Rock." While "Nothing to My Name" is the song he's best known for, the rest of his discography is a treasure trove of rock anthems with a distinct Chinese flavor. We recommend "Greenhouse Girl"  (《花房姑娘》) for its relaxed vibe and gratuitous saxophone line. Cui's vocals are a little unintelligible at times, but the lyrics are very straightforward.
[Lyrics]
6) You Exist in My Song 《我的歌声里》 - Wanting 曲婉婷
This bittersweet song about a vanished past love catapulted Chinese singer-songwriter Qu Wanting (who goes by her given name on the stage) to international stardom, leading to her performance of "You Exist in My Song" at the 2013 CCTV Spring Festival Gala, the world's most watched television program. Don't worry if you don't have pipes like Qu--the chorus is super easy to learn even for beginners, so everyone in the room will be belting it out along with you.
[Lyrics]
7) If You Don't Love Me, It's Fine 《不爱我就拉倒》 - Jay Chou 周杰伦
Jay Chou has been churning out KTV staples for the last twenty years, and this 2018 single is no exception. Dubbed the "King of Asian Pop," Chou has made so many contributions to the Mandopop sphere that we could write a biography about him (oh wait, we did!). "If You Don't Love Me, It's Fine" is simple, catchy, and perfect for a little dramatic headbanging.
[Lyrics]
8) No Love 《爱不来》 ft. Miss Ko - Khalil Fong 方大同
Hong Kong-based American singer-songwriter Khalil Fong has earned a lot of praise (deservedly so) for his efforts to introduce authentic soul, R&B, and hip hop sounds into Chinese music. "No Love" is a funky lament about how the pressure to be successful in your career can dash your chances at love. The song's slow, relaxed beat makes even Miss Ko's rap verse totally manageable for intermediate learners.
[Lyrics]
9) Playhouse 《家家酒》 - JiaJia 家家
Taiwanese aboriginal singer JiaJia knocks it out of the park with this emotional ballad about falling out of love. Written for the Taiwanese drama The Perfect Match, this song is a perfect match for karaoke--the powerful vocals will tug at your audience's heartstrings, but it's fast enough that it won't kill the mood and the lyrics are fairly repetitive and straightforward.
[Lyrics]
10) Mr. Almost 《差不多先生》 - MC HotDog 熱狗
For the last song on our list, we're throwing down the gauntlet and including a rap song by the one and only MC HotDog, Taipei's self-proclaimed "preacher of hip hop." If you get off beat, don't panic. You can probably fake your way to the end just by repeating 差不多.
[Lyrics]
---
To keep this list short, we had to leave a lot of songs on the cutting room floor. We'd love to hear your favorite Chinese songs to sing at karaoke, so comment and let us know! If we get enough suggestions, we'll follow up with a round-up of our followers' favorite KTV bops.