February 3, 2016
This year, the NBA is launching a marketing campaign around Chinese New Year in an effort to appeal to a growing Chinese fan base abroad.
NBA "Dining Table"
This advertisement, running on Chinese televisions now through the end of February, showcases sweethearts of the basketball world Stephen Curry, James Harden, and (of particular interest to these fans) Jeremy Lin, sitting down with a Chinese family to a New Year's feast. The camera pans around the table and each guest offers up some New Year's cheer.
If you give James Harden's jersey a glance, you may notice a distinct difference...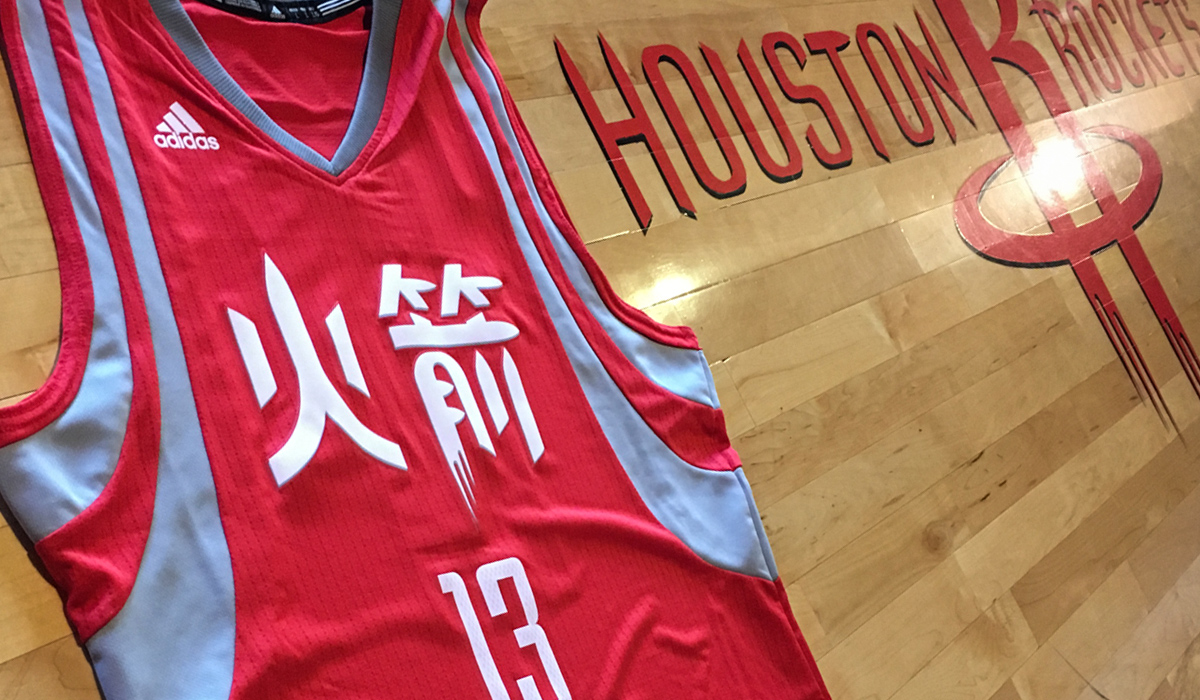 Houston Rockets' Chinese New Year Jersey
For their games in early February, Warriors, Rockets, and Wizards will don specially designed uniforms for the occasion, featuring the team's English name replaced by Chinese. Additionally, these and other team franchises have organized community and cultural activities at their arenas to further celebrate the New Year throughout February.
And to further mark the New Year, for the first time ever games from all 30 NBA teams - 51 games in total - will be broadcast or streamed in China.
It should come as no surprise that the NBA has in recent years turned it's attention to China. China currently has the largest international fan base of the NBA, and is poised to see continued growth in sports and fitness related sectors.
The NBA is not alone in its push into Asian markets; Nike also has made huge investments in China in recent decades. Like the NBA, Nike has been using "brand ambassadors" such as Lebron James and Michael Jordan to help drive demand. Nike is cementing itself as an elite brand in China, worn as a status symbol for the player and spectator alike.
Forbes weighed in on the conversation, charting the increasingly potent combination of Nike and basketball in China:
"Nike is also banking on the growing popularity of basketball in China. According to the China basketball association roughly, 300 million people in China play basketball (which is nearly the size of the total U.S. population). With its uniform deal with the NBA, Nike should improve its brand visibility in the region and benefit from the growing popularity of the sport in the country.
As China prepares to host the winter Olympics in 2022, Nike should see a significant growth in its revenues from the region, with the fitness industry booming and the country showing its sports fever."
With this increased focus on China, we may yet see the rise of a new tradition in China. Perhaps in years ahead, watching basketball over Chinese New Year will become as common as watching American Football in the United States over Thanksgiving. Turn on the game, and please pass the 饺子 jiǎozi.
---
For more insight on China's influence on the NBA, see Jeremy Lin and Yao Ming in our Chinese Biographies series. Learning about world-renowned personalities from fields such as sports, music, and fashion helps engage student interest, while reading practice will boost their confidence and enjoyment of the language. In addition to Jeremy Lin and Yao Ming, this award-winning series of readers focuses on international celebrities like Jay Chou, Vera Wang, Ang Lee, and Lang Lang to maintain a cultural context relevant to American students.
---