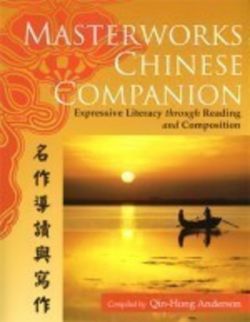 Masterworks Chinese Companion meets the needs of students from Chinese-speaking families or advanced non-native speakers who have mastered basic oral communication in Chinese but seek further development of their reading and writing skills. Anderson presents students with twelve short works that are emblematic of superlative writing styles, primarily from the Chinese canon of modern literature. By selecting short stories that reflect human emotions and relationships, the author of Masterworks has provided learners with the vocabulary and patterns they need to express their thoughts and feelings in writing. Lessons are given in both traditional and simplified characters. Audio recordings of the lessons are available as free online downloads.
Download Instructions:
1. Sign in to your Cheng & Tsui account, or register a new one.
2. On My Account page, enter the License Key in the Product Registration box, and then click "Redeem". You can find your License Key by answering the following question.
Question: What is the last word on page 95 of Masterworks Chinese Companion?
3. Click the "Files" tab, and you will see the Audio files for Masterworks Chinese Companion.