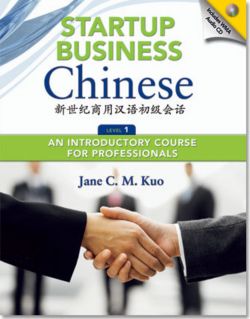 Designed for those with no prior knowledge of Chinese, Startup Business Chinese: An Introductory Course for Professionals escorts readers through daily business and social situations encountered by executives doing business in and with China.
Level 1's storyline is centered on a foreign executive's business trip to China, and deals with visiting a factory, dining out, making appointments, thanking hosts, and more.
Level 2 continues the storyline as the executive relocates to China to live and work, and deals with travel plans, setting up an office, communicating with colleagues, accessing the Internet and other publications, finding an apartment and international school, and seeing the doctor.
Level 3 picks up where Level 2 leaves off. It focuses on day-to-day professional social interactions such as dining out, gift giving, and celebratory banquets, and on business processes, including job interviews and employee benefits, quality control, negotiating prices, packaging, and sales distribution.
The Startup Business Chinese series includes a Level 1 textbook with audio, and a workbook with audio. Level 1 is the introductory level, for students with no prior knowledge of Mandarin Chinese. Level 1 is typically covered in one semester of study at the college level, for classes that meet five days a week. It can also be used for summer or short-term intensive introductory courses in Chinese. Level 2 and Level 3 expand learning to the intermediate level.
Level 1 is in simplified characters only. Levels 2 and 3 include traditional characters in the textbooks' vocabulary lists.