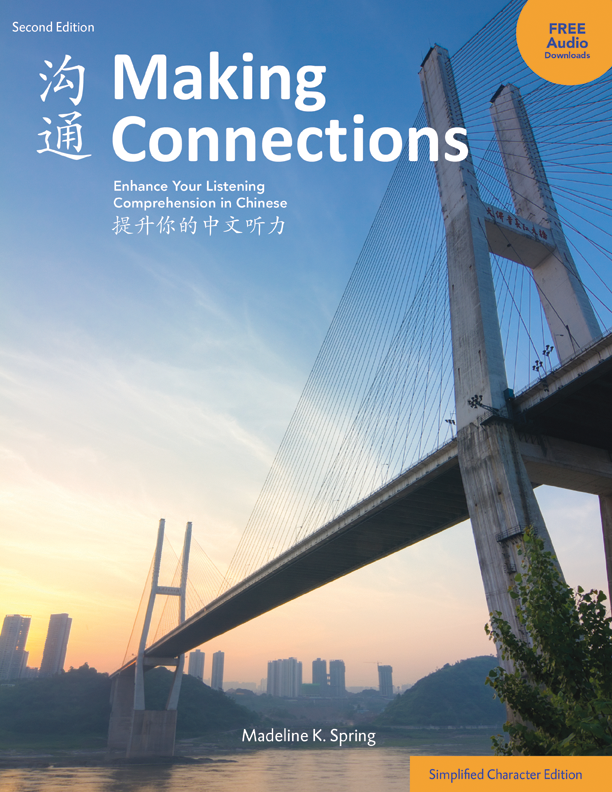 Making Connections gives beginning and intermediate students of Chinese an early start in developing strategies to dramatically improve their listening comprehension. An effective companion to any first or second year textbook, Making Connections improves listening skills through the use of recordings of natural, unrehearsed conversations between native Mandarin speakers. Students will hear the spoken language in a variety of contexts, from chats between friends to conversations between doctor and patient to radio broadcasts. The accompanying written exercises guide students through each audio track, explaining particular aspects of the language, supplemented with related realia and cartoon illustrations. Pre- and post-listening activities train students to listen for detail and intent, and an index lists vocabulary terms by lesson, in both simplified and traditional characters.
The first 23 lessons in the book correspond to lesson topics from Integrated Chinese, Level 1, Parts 1 and 2. Lessons 24-45 offer additional situational topics that range in difficulty from novice to high-intermediate. With its strong emphasis on listening comprehension, Making Connections is a great preparation tool for standardized tests of Chinese, such as the AP* Chinese Language and Culture exam, the HSK, and others. Audio materials are available as a free MP3 download with purchase of the 2nd Edition. 1st Edition texts with audio CDs are still available.
Download Instructions:
1. Sign in to your Cheng & Tsui account, or register a new one.
2. On My Account page, enter your Product Key for Making Connections in the Product Registration box, and then click "Redeem". You can find your Product Key in your book.
3. Click the "Files" tab, and you will see the Audio files for Making Connections.