Go Far with Chinese Level 1 ChengTsui Web App™ Edition
Description
Educators can request a trial subscription of Go Far with Chinese Level 1 on the ChengTsui Web App™ here. 
Go Far with Chinese Level 1 is available as a fully integrated online course on our online learning platform, the ChengTsui Web App™. Students can access interactive versions of the Textbook and Workbook, complete with streaming audio, note-taking tools, a printable Character Workbook, and more.
In the Web App, teachers can access all of the materials included in the Teacher Resources. Rostering and assignment creation tools make it easy to manage and give homework to multiple classes, and the Workbook's autograding feature saves teachers time and energy. The result is a fun and effective online teaching and learning experience for everyone. 
The Go Far with Chinese Level 1 Web App Edition is available in the five subscription levels below: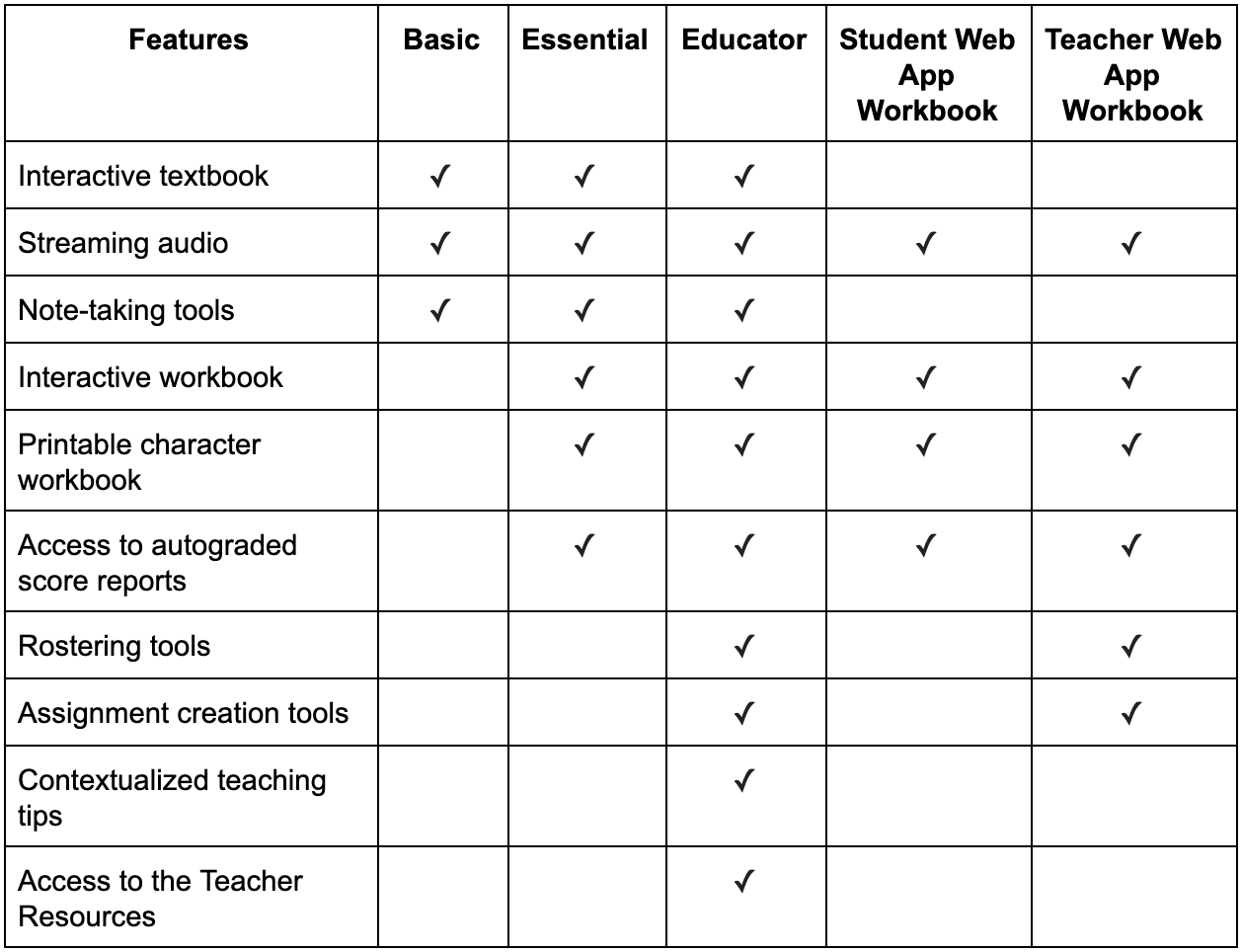 Please note that Student and Teacher Web App Workbooks are only available as 1-year subscriptions and are non-transferrable between students.
To view the ChengTsui Web App™ system requirements, click here.
About the Series
SERIES AVAILABILITY
Level 1A
Print: Available Now
Web App: Available Now
Level 1B
Print: Available Now
Web App: Available Now
Level 1
Print: Available Now
Web App: Available Now
Level 2
Print: Available Now
Web App: August 2021
Level 3
Print: February 2022
Web App: August 2022
Go Far with Chinese is a comprehensive, proficiency-based Chinese language program for middle school and high school students. The series provides age-appropriate content to meet the specific needs and interests of teenage language learners, while building articulation to college-level programs, including our internationally acclaimed Integrated Chinese series.
Students follow Martin and Isabella Lopez, two American teenagers whose mother receives a work assignment in Beijing. Each chapter brings a new episode in the lives of the Lopezes, allowing students to experience the excitement and challenges of adapting to life in China.
Thoughtful vocabulary control and contextual grammar instruction help students achieve intermediate-low level proficiency in Chinese. Engaging cultural features jam-packed with up-to-date information about the lives of young Chinese people also help students connect to and apply the content. The series' robust teacher resources, developed in collaboration with a team of experienced educators, make it easy to create an effective, enjoyable, and flexible learning experience.