January 9, 2015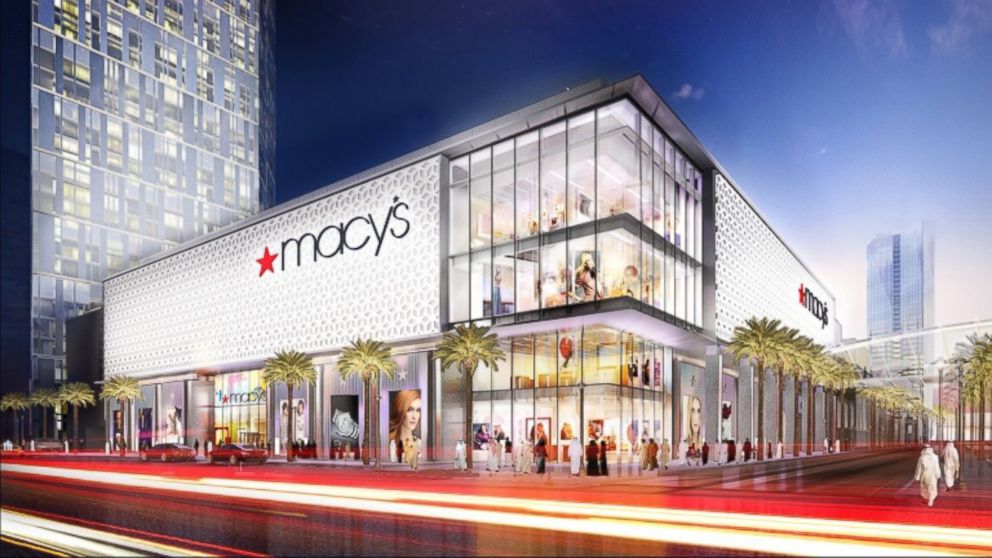 <image: Macy's first international store at the Al Maryah Cental in Abu Dhabi, Unitied Arab Emirates, released by Gulf Related. source: http://abcn.ws/1yGDVXm>
The holiday season has come to an end and the shopping madness has come and passed and people have happily opened their gifts and discarded their shopping bags. Now people are putting away their bags with red stars from Macy's in hopes that they'll be able to use them later. Macy's is the epitome of a truly American Company that has fully integrated itself into holiday festivities year round. Many of Macy's seasonal promotions—The Macy's flower show during the spring, The largest fireworks show in the country during the 4th of July, the Macy's day Thanksgiving parade, the iconic imagery of their holiday window displays, or snuggling up at home and watching A Miracle on 34th Street (a film that suggests that the Santa sitting in Macy's might actually be the real Santa Claus)—have now become holiday traditions. 
People in the U.S. have taken part in these activities for years and soon this experience will be known to the people and tourists of Abu Dhabi. Macy's made the savvy decision to open their first store outside of the U.S in Abu Dhabi, the capital of the United Arab Emirates, in 2018! Macy's will be the anchor to the new mega shopping center Al Maryah, located on the Al Maryah Island. The Macy's store will have similar products to those in America, but the assortment will be tailored to the local needs of Abu Dhabi. Soon the people of Abu Dhabi will be toting their own shopping bags emblazoned with a red star.
This decision received worldwide media coverage because not only was it unexpected but this partnership acknowledges Abu Dhabi's growing presence in fashion and business. Abu Dhabi is quickly becoming an economic powerhouse.
One example of Abu Dhabi's economic importance is the decision to film Sex and the City 2 in the city. Interviews with the creators reveal that the feeling they wanted to invoke was an escapist experience like that in the films of the 1930's. Those films took people on extravagant adventures that allowed moviegoers to leave the pressures and worries of the Great Depression outside of the theatre as they settled in for a much needed break from reality. Abu Dhabi was not only chosen because of its lavishness and high fashion, it was chosen because Abu Dhabi was unaffected by the declining economy that countries were experiencing around the world.
Macy's presence in Abu Dhabi offers familiarity to the rest of the world by having an affordable department store as one of the focal stores in this expansive shopping center. The global presence of Emirates Airline also connects Abu Dhabi to the rest of the world. The airline has gained worldwide recognition for its lavish accommodations, but has also made visiting Abu Dhabi an attainable dream. Emirates Airline's inclusive "Hello Tomorrow" campaign, alluding that the airline holds the key to "tomorrow" and to a world of possibilities, is, in a way, branding Abu Dhabi as the city of tomorrow. All of these ads carry the core message of bringing people together and making the world easier to explore, thus making Abu Dhabi more visible as a global tourist destination and a city worth investing in.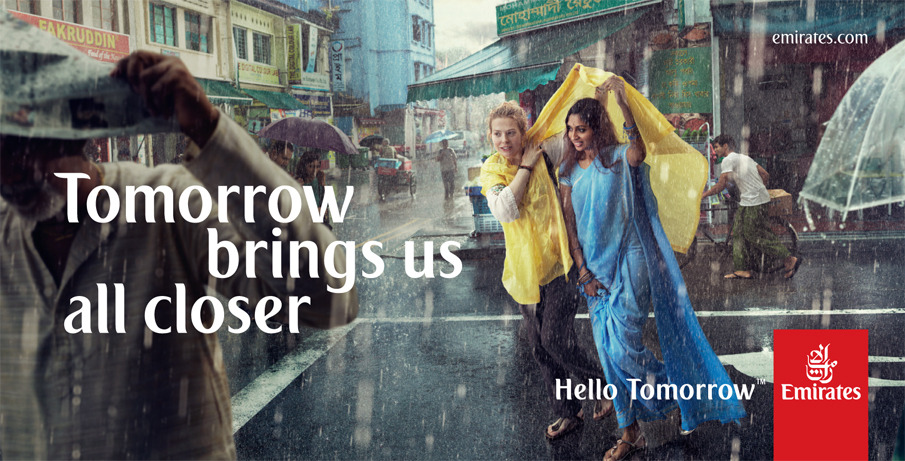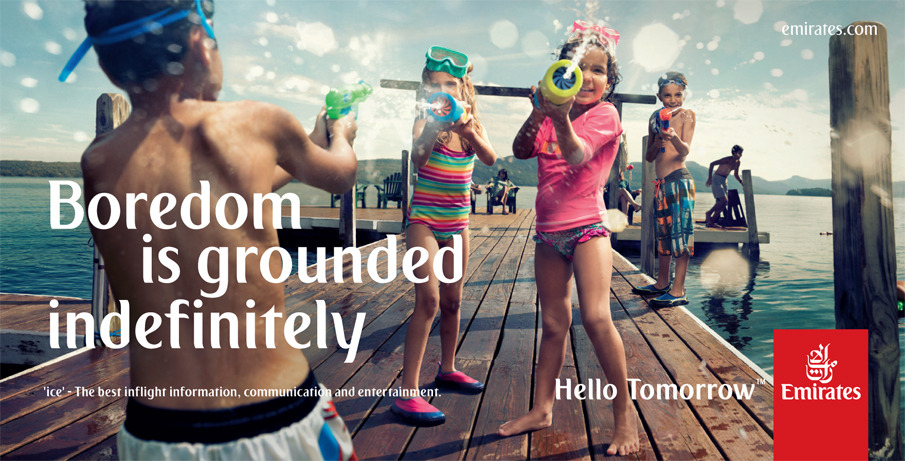 <image: 

Emirates Airline's inclusive "Hello Tomorrow" campaign>
As the world becomes smaller and more accessible to everyone and Abu Dhabi continues to emerge as a world power, it's entirely possible that one day any one of us could use Emirates Airlines, even if your seat is merely in economy, to fly to the Middle East or just travel home for the holidays. Other stores might follow Macy's lead and start staking claims in the fast-rising city's economy. Abu Dhabi's continual expansion and global presence has attracted a lot of investment, but also travelers from around the world looking to experience its unique culture and opportunity. Macy's just made that experience easier to attain. Now might be a good time to start learning Arabic, so that you too can one day explore the Middle East and shop at Al Maryah.
Teaching Tips and Activities: Marhaba!
A good place to start learning Arabic, or starting an Arabic program, is Marhaba!. This guide will bring students one step closer to learning Arabic with its nontraditional but highly effective teaching methodology.
As shown in the video Marhaba! Is an innovative student-centered and standards-based Arabic curriculum that brings this rich and challenging language to life. Lesson and activity guides allow educators to help students create personalized textbooks called daftars, a process that encourages them to take ownership of their own learning.
If you're interested in learning more about our Marhaba!  Curriculum Guide, click here and go to the previews tab to view samples. You can also contact us for more information.